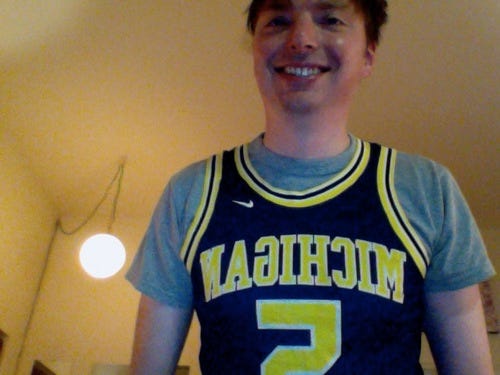 Sep 9, 2020 • 39M
Interview with Mike O'Brien: The Emmy-nominated U-M grad opens up about his time on Saturday Night Live, his current project (AP Bio) and his favorite Ann Arbor memories
With a lot of planned fall coverage not being feasible because of this whole "no Michigan football games" thing, I'm going to be dipping my toe into a couple different areas to keep producing content. That's going to consist of the occasional podcast/interview-type piece.
My first crack at this comes today, as Mike O'Brien was fortunate enough to give me ~40 minutes of his time to talk about a wide range of topics, including the latest season of his show (AP Bio) recently being released, his time as a Saturday Night Live cast member and some of his favorite memories as an undergrad at the University of Michigan.
---
This week's interview will be free. Most future interviews will be a part of my premium newsletter offerings. To explore different premium options, click below:
---
For those unfamiliar with Mike, you can follow him on Twitter at @MikeObrienXOXO.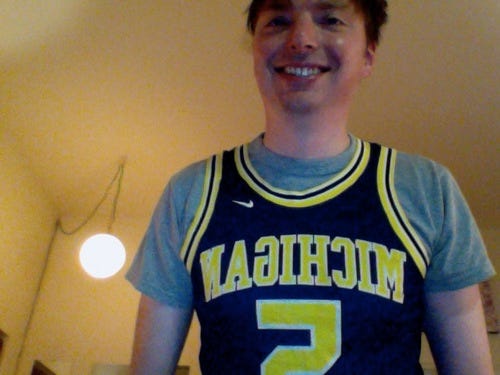 If you're in a hurry or just don't want to listen to my voice for 40 minutes (understandable, if we're being honest), here are some highlights you can check out along with their timestamps that you can jump directly to:
— 1:20-2:00: On what it was like being a student at the University of Michigan in the late 90s (hint: there were a lot of national championships — must be nice).
— 2:15-4:00: On why being a season-ticket holder for hockey is better than football and basketball.
— 4:00-7:00: On the early ups and downs of being a Michigan basketball fan and how much fun it's been in recent years. Plus thoughts on the early returns of the Juwan Howard Era.
— 7:00-12:00: On how Michigan fans should adjust their fandom plans during the pandemic and the struggles of being a displaced Michigan fan living far away from Ann Arbor.
— 12:00-16:30: More on Mike's undergrad experience and Michigan fandom growing up. Plus some talk about his college rivalry against The Michigan Daily, which included the creation of a rival newspaper.
— 16:30-18:30: On the wonderful Christmas letter Mike's parents received about him being kicked out of college, and how he get back in the university's good graces.
— 18:30-21:00: On how Mike went from the University of Michigan to Second City in Chicago to earning a job on Saturday Night Live.
— 21:00-23:30: On the rarity of being both a writer and a performer on SNL, the stress of doing live TV and which role he enjoyed the most.
— 23:30-25:30: On how fun it was working with friends and carving out a niche with non-live videos on SNL.
— 25:30-28:15: AP Bio talk. How it came about, what it was like having it debut on NBC and what the process of getting it on a streaming service was like.
— 28:15-31:30: On the process of writing a TV show from scratch, and whether the main character was written with Glenn Howerton (Dennis from Always Sunny) in mind.
— 31:30-33:45: On how cool (and challenging) getting to be a creator/writer/producer/showrunner for a TV show is, and what it's like having that sort of power and creative freedom in a project.
— 33:45-37:00: On some Saturday Night Live Easter Eggs that Michigan fans got to see over the years (including some mythbusting on that front) and whether we can expect to see any similar things in AP Bio or other projects he's involved with.
— 37:00-end: Wrapping things up.
---
Some of the things referenced in the interview:
— The full "Monster Pals" video from SNL:
— A screenshot of the Bo Schembechler "Easter Egg" discussed: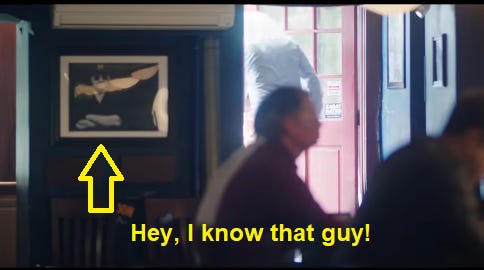 — A Season 3 trailer of AP Bio:
— And finally, here's how you can watch AP Bio, including the newly released season 3 episodes as well as episodes from past season.
---
View other premium posts below:
R.I.P. Michigan's 2020 football season -- Here's how I feel, what's next and who the real winners and losers are
Your comprehensive guide to 2020 college football temporary fandom: Which school(s) should you adopt? And which ones should you stay away from?
Michigan doesn't have an in-state recruiting problem. In fact, its in-state recruiting is pretty damn close to elite
A deep dive into Jim Harbaugh's track record with running quarterbacks and what it may mean for the 2020 season
I don't know who needs to hear this, but Jim Harbaugh is a better football coach than James Franklin
Breaking down Michigan's biggest "What If" moments of the Jim Harbaugh Era
Breaking down the Big Ten's move to a conference-only schedule: Why it's a good move, but why it could end up hurting Michigan
How I measure the success/failure of a season, plus my 2020 game-by-game predictions for every Big Ten team
Should Michigan fans be worried about breaking in so many new starters on the offensive line? Here's what history tells us.
Michigan vs. LSU would be a blast to watch -- and I want absolutely nothing to do with it. Here's why you shouldn't, either.
Why everyone should chill out about Josh Gattis > Jim Harbaugh talk
Which unit has underachieved more under Jim Harbaugh: QBs or RBs?
View other free posts below:
My 2020 "State of the Program" look at Michigan football
State of the Michigan Football Program follow-up: Diving into in-state recruiting, U-M's performance in road games and the atmosphere at the Big House
My preseason All-Big Ten teams, OPOY/DPOY picks and projected standings
Big Ten Power Rankings (Vol. 1): Ohio State is the team to beat heading into the fall; Michigan gets nod at No. 2 over Penn State
Michigan's defensive line performance and development has been elite under Jim Harbaugh
Rival fanbases might want to think twice before playing the Donovan Peoples-Jones card. Here's why.
Michigan's biggest recruiting hits and misses, my thoughts on "Wal-Mart Wolverines," how the media deals with Jim Harbaugh and more